Gypsum is monoclinic mineral and the main chemical composition is calcium sulfate (CaSO4). Gypsum also name plaster is a widely used as industrial materials and construction materials such as retarder for cement, gypsum building products, model making, medical food additives, sulfuric acid, paper fillers, paint fillers.
The world's largest producer of gypsum is the United States. In the U.S., gypsum deposits in 22 states, a total of 69 mines, US's largest producing state in the Aida Fort Dodge. The followed country is Canada. France in the European is the gypsum production leader. Again for West Germany, Britain, Spain. China gypsum mine is rich in resources.
Gypsum Application
Cementitious materials are the production of gypsum plaster and gypsum building products, the main raw material is Portland cement retarder. Gypsum is calcined by 600 ~ 800 ° C process, a small amount of finely ground lime and other common catalysts, can be anhydrite binder (also known as the Guinness Book of binder); Calcined by 900 ~ 1000 ° C and finely ground, the gypsum can be highly and easily grinded. Obtained with both the products of gypsum, strength than gypsum products, and anhydrite binder has good insulation, high temperature calcined gypsum has good wear resistance and water resistance.
Natural gypsum mining and beneficiation is a large-scale industry in many countries which include USA, Canada, France, Germany, England, Spain, Iran, China, Pakistan , Thailand, Australia, etc. Natural gypsum mining crusher and grinding mill is a key equipment to process the gypsum after the gypsum ore is transported from gypsum quarry.
Gypsum Crusher and Gypsum Grinder Mill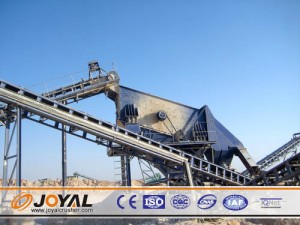 Joyal small crusher is comprehensive of domestic and foreign similar stone crusher technologies, such as impact crusher and hammer crusher. Small crusher is mainly used for medium and small broken cement raw material, clinker, used for building sand, iron ore, sand, gypsum, coal, lump coal and other minerals in hard broken. Sometimes, we can call small crusher as gypsum crusher. Joyal can supply you many gypsum crushers such as hammer gypsum crusher, impact gypsum crusher, and mobile gypsum crusher and so on.
Besides gypsum crusher, Joyal also can manufacture gypsum grinding mill or gypsum grinder mill for grinding gypsum or plaster such as gypsum ball mill, gypsum vertical mill, gypsum coarse powder mill, gypsum superfine mill and so on.
Gypsum crusher is key crushing equipment used to crush the large gypsum ore into small particles. Joyal is a major gypsum crusher manufacturer and supplier in China, we can produce primary jaw crusher, secondary jaw crusher, impact crusher, hydraulic impact crusher, four types cone crusher for the gypsum crushing plant, we also can supply the portable crusher and mobile crusher to the clients according to the clients' demands.
In a gypsum crushing and processing plant, jaw crusher can reduce the gypsum ore from 1 meter to 80mm, the impact crusher and cone crusher can reduce the grain size down to 20mm.
Gypsum powder production line
Gypsum powder production line's complete configuration includes the DCS electrical control system, dust removal system, plumbing and heating systems, grinding systems, transportation systems, crushing machines and boiling calciner.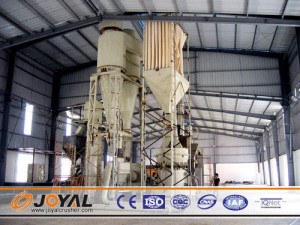 Gypsum powder production line crushing process: gypsum blocks from the coarse jaw crusher for primary crushing, both in the discharge area of field layout, then fine secondary jaw crusher broken into the hopper.
Gypsum powder production line pre-grinding part: out of plaster powder hopper by spiral, said belt conveyor into the mill for further milling columns, selected by the separator stage separation, the material passing through the corner conveyor, vertical bucket elevator, screw conveyor transported to the warehouse roof of Health bunker. In this process, the spiral wanting to set the value of cumulative output measure, and call for the calculation; column the mill cannot start with load from the material level signal to select the storage charging.
Related machines: milling equipment, industrial milling machine, high pressure mill, crusher price, crusher manufacturer, milling machine, milling machine prices, milling machine manufacturers, Raymond Mill, Raymond mill, Raymond Mill manufacturers , crushing machine, jaw crushing machine, crushing machine efficiency, jaw crushing machine, jaw crusher, hammer crusher, crusher, rod mill-type sand making machine, impact-type sand making machine, the third generation of sand machine.
Gypsum mining and beneficiation process
Firstly, the gypsum ore is mined in a gypsum quarry, then it will be transported to a stockpile where the gypsum ore crushing plant is fixed up. In a crushing process, the large gypsum ore will be fed into primary jaw crusher by vibrating feeder, the crushed ore will be transferred to secondary jaw crusher via belt conveyor for further crushing, then the crushed gypsum will be sieved into different grades by vibrating screen. During this process, impact crusher, cone crusher is needed if necessary. When the plaster of Pairs is produced, grinding mill is needed. Grinding mill will grind the small particles into powder so that it will be used in many industries such like cement industry, chemical industry, agriculture, paint, paper, construction , building, ceramic industry etc.