With the gradual improvement of China's economic development, the construction industry, infrastructure, the development of the series requires a lot of sand and gravel aggregate supply. So driven by a time for the benefit of a large number of sand mining is chaos, the government strengthened the management of sand, they turned to artificial sand production. We all know that artificial sand production is a complex process and requires a lot of common with mining machinery. Shanghai Joyal mining machinery as a professional mining machinery manufacturer here with everyone approached sand production line.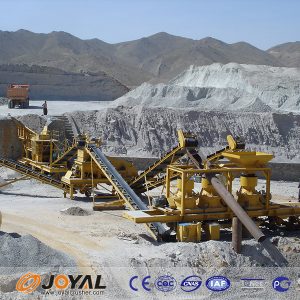 We all know that the sand and gravel production line is a complex structure, there is a lot of mining machinery together with in order to successfully complete the process, the rational allocation of sand production line is very important, a reasonable mix can improve the operating efficiency of the sand and gravel production line , the configuration of sand production line are what precautions need it?
(1) sand and gravel production line to have a certain flexibility, sand production line can timely adjust its production methods to adapt to changes in raw material particle size.
(2) sand and gravel mining machinery and equipment production line configuration process requirements should be based on the nature of fluctuations in raw material enough gravel adaptability, multiple specifications of the same job in the same mining equipment, mining equipment should be symmetrical easy installation, operation, service.
(3) sand and gravel production line can generally be taken to the open mode of operation, open-air mining machinery to do the job but the corrosion protection of mining machinery, there is electrical equipment should focus on protection.