Joyal main products include jaw crusher machine, cone crusher, impact crusher, vibrating screen and a series of mining products. And we use the best raw material to fit our quality. We own strong technical force, long term cooperation with research institutes, skillful workers, experienced technicians and engineers. That is why we say Shanghai Joyal is one of  good crusher manufactures in China .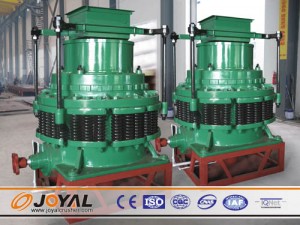 Because coal doesn't belong to the high hardware material, the normal jaw crusher and impact crusher can smash it easily. According to many years' experience on machinery crushing of Joyal Company, large coal production enterprise pays more attention to the output, quality and safeguard of the crushing machine, which has a concentration to using cost and efficiency with a higher requirement of jaw crusher & impact crusher. The stone cone crusher of good quality can crush the raw coal and gangue on a large scale with high efficiency with less time and lower cost, which helps the large mine enterprise improve the output and create the benefits.
The Joyal Mainly Products contains Jaw Crusher,Cone Crusher,Impact Crusher,Cone Crusher, Sand Making Machine,Sand washer.