Cone Crusher uses the lubricant seal. The spring insurance system is the over-load protection device. The Cone Crusher is widely applied in cement plant, building, and metallurgy. It is suitable for crushing the iron ore, the non-ferrous metal ore, the granite, the limestone, the cobblestone and so on. The cone crusher is a machine used for breaking big rocks into minor rocks, gravels or rock dusts. The crusher is widely used for medium and fine crushing of all kinds of rocks with compressive strength under 350MPa in mining, cement industry, sand industry, metallurgy and other fields.
The crushing chamber of the cone crusher is by the working surface are between the movable cone and fixed cone. So it is more advanced and efficient than Jaw Crusher machine. The movable cone is supported by spherical bearing and fixed on a hanging erect shaft which is set in the eccentric sleeve, and the sleeve is set on the stopping and pushing bearing. The movable cone and erect shaft are driven by the eccentric shaft sleeve together.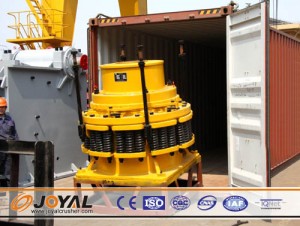 And today let us learn something about the adjustment device of cone crusher. Cone crusher adjustment device is actually part of fixed cone, the adjusting ring, support ring, drive hydraulic cylinder , lock nut locking hydraulic cylinder and piston. Bearing ring installed on the top of the rack and with the aid of spring cone crusher around and stand against. adjusting ring bearing ring contact surface are serrated thread. Mounted on the supporting ring two claws and a pair of driving hydraulic cylinder. Locking hydraulic cylinder and the piston is installed in the upper portion of the supporting ring. Lock nut and adjust ring contact surface is also made into sawtooth thread.When the normal work of the crusher, lock inside the hydraulic cylinder is filled with pressure oil, make the lock nut, ring and adjusting ring contact surface of sawtooth thread is cant fit closely, to achieve the purpose of locking.