As the first procedure of the whole stone crusher plant, Vibrating Feeder plays a fundamental role. Joyal feeder machine has very wide application in the whole mining equipment industry and it has been used by over one hundred stone plants. This feeder machine with its many outstanding advantages and is well received by customers.
China vibrating feeder adopts dual-eccentric shaft exciter which makes the equipment can sustain the impact from the falling of large materials and ensures high feeding capacity. In the production flow, China vibrating feeder can evenly, quantitatively and continuously feed lump and granular materials to the materials receiving device from storage bin, thus avoiding machine crash due to uneven material feeding and extending the service life of the equipment. China vibrating feeder has two structural types: steel plate structure and grate bar structure.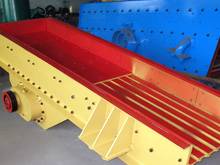 The vibratory feeder with steel plate structure is usually used in stone crushing production line to evenly feed all the materials into the breaker machine and the vibratory feeder with grate bar structure can coarsely screen the materials, so that the configuration of the system is more economical and reasonable, making it an indispensable machine in the crushing and screening process. For this reason, China vibrating feeder is widely used in the crushing and screening plant in such industries as metallurgy, coal mine, ore beneficiation, building material, chemistry and abrasive material industry.
Shanghai Joyal feeder machine has many superior advantages such as reliable working condition, low noise, low energy consumption, long service life, convenient maintenance, light weight, small size, convenient adjustment and installation and good comprehensive performance.