Brief introduction of moving stone crusher
Mobile stone crusher, is used for all kinds of stones (including pebbles, limestone, bluestone, diabase, granite, etc.) broken, the use of advanced German technology to produce efficient crushing equipment, not only special structure, energy saving, simple operation, easy installation , Reliable quality, but also has a good free movement, in the road, mountain and other environments to walk.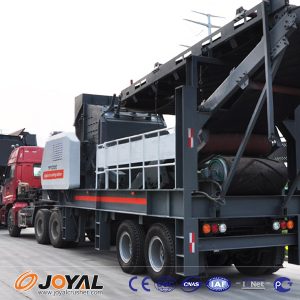 Moving stone crusher structure
There are many different combinations of moving stone crushers, which can be respectively jaw crusher, impact crusher, cone crusher, impact crusher, circular vibrating screen, etc., usually by the feeding system, broken System, screening system, transportation system. The effect of the feeding system is to give the stone material evenly into the crushing system; the crushing system is the core part of the whole crushing station to complete the crushing of the stone material; the sieving system is the reasonable screening of the broken stone Different specifications; transport system, as the name suggests is the material from a stage, transported to another stage.
Mobile stone crusher product features
Mobile stone crusher of the advanced structure, technical skills, it also has a particularly prominent product features, detailed as follows:
1, high-end raw materials, superb production technology to ensure the quality of equipment, more stable performance, the more powerful, enhance the machine processing capacity of about 60%;
2, more comprehensive crushing function, the stone material can be fully broken, to meet a variety of specifications, so that it has a wider range of adaptation occasions;
3, flexible parking function, to ensure that the device itself more quickly into the work mode, reduce the boot time, effective cost savings of 40% -50%;
4, broken high efficiency, yield, finished stone material quality, grainy appearance, while the production process no noise, no dust, more green, more environmentally friendly.