Mobile crushing station is Shanghai Joyal a star product, it is a feeding, crushing, delivery and integration of large-scale equipment, at present, mainly used in material handling a set of processing operations at the scene, such as metallurgy, mining, chemicals, building materials, water and electricity, and many other industries. Mobile crushing station has gradually become part of a continuous operation and intermittent semi-continuous process of major equipment operational aspects of Joyal mobile crushing plant used for crushing of construction waste.
In recent years, with the rapid development of industry, consumption of a variety of mineral resources is increasing, mobile crushing station has gradually been increasingly widely promoted and in iron ore, phosphate, non-ferrous metals, limestone and other hard rock mining field application.
The main structure of the mobile crushing station are what it? In general, mobile crushing station is mainly composed of closed hopper, feeder, crusher, unloading arms, steel, crawler devices and other components. According to their location and different ways of transference, currently divided into two types: self-shift and shift his style.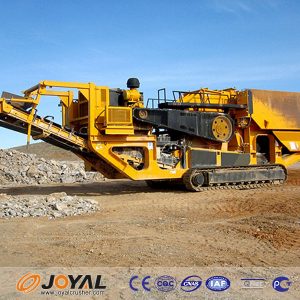 1, self-moving crushing station
Self-moving crushing station is currently the more and more a crushing plant, in operation, by the excavator bucket or direct feeding with feeding, crushing, transportation and many other features, can be laughed motor transport intermediate links, improve loading speed and efficiency, while the cost of production since the shift crusher station is lower semi-continuous process system, a traveling flexible. Its running gear tires have pro forma, hydraulic swing type, the crawler tracks and other pro forma.
2, passive portable crushing plant
Usually by the crawler transporter or other drag (traction) device to complete the move, according to equipment, machine weight, height and other factors, which can be divided into transference transference whole or split transference.
Mobile crushing plant because of its flexibility, mobility and other characteristics, widely used in many fields, can be directly entered the work site, on-site processing of materials, no longer need to move away from the scene and then processing the material crushing, significant savings in transport costs and operating time. Joyal convenient and efficient mobile crushing station, your broken construction waste, recycling is a good helper!