As we all know, the crusher or mill used in the ore processing and crushing is a lot of input for equipment wearing parts usage in the processing stone materials. The situation of usage determines the performance of equipment.
The crystalline silica of quartz stone is the hardest and the most stable mineral one. Aluminum silicate, feldspar crystallization of its strength and stability is slightly lower than the quartz, and easy to weathering and kaolin. Mica is crystalline, flake moisture content of aluminum silicate. The mica easy to split into thin slices, will reduce the durability and strength of the rock when the rock contains a large number of mica.
Adhere to the adjustment and transformation, innovation and upgrading strategy, the development of high-end, large, intelligent mining machinery products, is still our relentless pursuit of the goal. This is a key factor in restricting the mining machinery industry in China to further enhance competitiveness in international markets.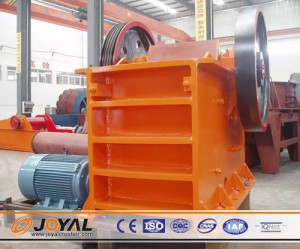 As a large-scale mining machinery R & D and production enterprises, Shanghai Joyal Machinery has been the product technology research and development in a prominent position, and insisting on continuous innovation and actively cooperate with the market situation. It strives to provide our clients with the most advanced mining machinery and equipment. I believe in the near future, the mining machinery industry will adapt to the trend of low-carbon economy into a resource-conserving, environment-friendly industries.The company sets 24 years experience in equipment manufacturing,establishes the international advanced production lines and first-class modern testing base, and produces a number of workmanship crushing and screening milling equipment, such as jaw crusher machine, impact crusher, cone crusher plant, impact system sand, the vertical roller mill, Raymond mill, mobile crushing plant and other large and medium-sized equipment.
We provide technology, good product quality and intimate after-sales service when you purchase Impact crusher, Ball mill, from our company.As a professional mining machinery exporter, we will win your trust with our delivery speed, Enterprises Credit and product quality.