Joyal Machinery is a crusher machine manufacturers, equipment,  has been committed to the crusher, cone crusher machine developed, widely used in mining industry, metallurgy industry, building industry, road building industry, chemical industry and silicatesalt industry.
Cone crusher is the crushing machine for rock. It includes spring cone crusher, hydraulic cone crusher, gyratory cone crusher, compound cone crusher and so on. Hydraulic cone crusher is designed and developed by the senior technicians , which not only improves the production capacity and the crushing efficiency, but also enlarges the use range which is from limestone to basalt, from production of stones to crushing all types of ore, and it can efficiently complete various types of crushing such as the work of fine, super fine crushing.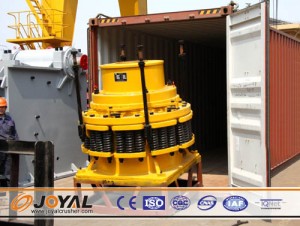 The company has always been science and technology as guide, strengthen research and innovation capacity to build out of the crusher equipment, such as cone crusher, jaw crusher, impact crusher machine, etc. Product development based on the crusher equipment, superior performance, ease of operation and quality on a reliable, low energy consumption in a similar crusher equipment, low costs of operation and management.