Crusher has been widely used in mining, roads, chemical industry, railway, metallurgy and building construction fields with the economy development in China. cone crusher, as a normal crushing equipment, is one of the important equipment in production line.
cone crusher is suitable for crushing medium hardness of various minerals and rocks and has the advantages of stable structure, convenient adjustment, economic operation etc. The crushing fineness depends on the type of crushing chamber. The medium crushing chamber is used for intermediate and fine crushing, while the short head one is suitable for fine crushing.
cone crusher is under continuous innovation with the economy development and the need of industry development. Shanghai Joyal Machinery Co., ltd, which is famous for cone crusher manufacturing, has developed new efficient hydraulic cone crusher on the bases of CS and PY series cone crusher, thus setting off new waves in the development of this industry.
Product highlights of the efficiency cone crusher.
1. Durable, simple operation and convenient repair.
2. Interparticle breakage, excellent crushing size.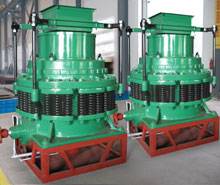 3. Hydraulic protection and hydraulic cavity cleaning; high degree of automation; reduce downtime.
4. Various types of crushing chamber, flexible application, strong adaptability.
5. Thin oil lubrication, reliable and advanced design, service life is improved.
6. Big crushing ratio, high production efficiency, low loss and cost.
7. Efficient hydraulic cone crusher has the advantages of low failure rate, equipment operation rate is more than 85%,the production cost is reduced in the production process.