With the development of mining industry , crusher market is growing. According to statistics , in recent years, sales have been soaring pull
crusher .
Shanghai Joyal Machinery Co.,Ltd.since its inception, has been committed to R & D and manufacture of mining machinery , over the years by virtue of their high-quality service and excellent product quality to win the trust of customers .Joyal cone crusher is suitable for crushing medium hardness of various ores and rocks , with a reliable structure, high efficiency, easy adjustment and economic characteristics. The spring release system is the overload protection device allowing metallic foreign body through the crushing chamber without damage to the machine , use dry oil seal forms , make powder and oil separation to ensure reliable operation .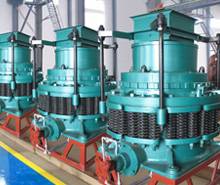 With the development of society, science and technology innovation , in order to make the cone crusher technology  better and better, the Shanghai Joyal Machinery Co.,Ltd.research and innovation on the product manufacturing process and process technology. Hydraulic insurance, hydraulic adjustment , hydraulic clean cavity used to make the operation more convenient , easy to automate maintenance easier.