In metallurgical industry, after a blast furnace smelting of iron ore, a lot of waste is produced, also known as blast furnace slag. As metallurgical industry emissions up solid waste, if slag isn't rationally used, it will cause waste pollution.
Blast furnace slag has become a kind of good energy-saving environmentally friendly building materials. It can be used as different building material according to its property: some slag is used in cement, brick, concrete aggregates, road construction, wall materials; some can also be used for the production of micro-crystal glass, slag wool, ceramics and the production of agricultural fertilizer.
In recent years, as the technology advances, slag usage is more and more. At present, China has 500 million tons / year of metallurgical slag processing capacity. There are a number of core technologies for high slag processing, slag grinding production and powdered materials into ball.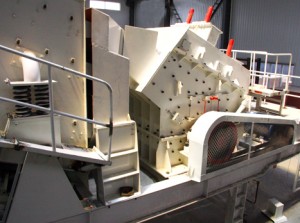 How to deal with slag? Slag processing need to crusher it with crusher first and then screen to different size aggregate. Due to slag hardness, the lifetime of stone crusher wear parts is short, which results in higher production costs. The popular machine used in market is jaw crusher and screening equipments.