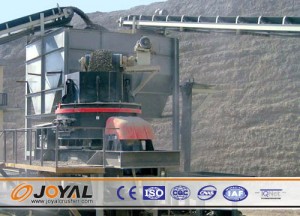 With the development of infrastructure, sand making machine is widely promoted and applied in water conservancy and hydroelectric power project. It has achieved significant benefits. Infrastructure projects are getting higher and higher demands on sand, sand making machine is developed accordingly.
In hydraulic engineering, concrete aggregates production system is an indispensable component. Sand takes about 3 0%~40% percent in concrete aggregate material. Millions of tons high quality sand is needed in large water conservancy and hydropower projects.
Joyal's sand making machine is specially designed for water conservancy projects and other major projects. It can be widely used in highways, high-speed railway, high-rise buildings, municipal engineering, construction of hydroelectric dams, concrete mixing stations and other industries that need the gravel shaping and gravel processing. It can be used as secondary crushing equipment in crushing plant, also as independent shaping machine.
The new sand making machine adopts foreign advanced technology; the performance is highly improved than old machine. Large capacity, uniform particle size, easy maintenance, long life and low cost are outstanding features of new machine. It represents the new direction for the future development of sand making equipments.