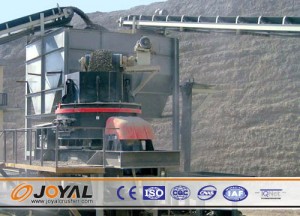 Sand making machine developed rapidly in recent years, it has been duly noted around the world. The opportunity is mainly due to the growing market demand. China economic development led a series of rapid development of industries like urban construction and high-speed rail industry, which have more stringent requirements for stone quality. Natural sand can't meet the growing needs in quantity and quality, artificial sand comes into being.
In above industries, concrete is an integral part of the production system. Sand aggregate is an important component in concrete. The fineness modulus, density grain-size characteristics of sand has an important effect on mechanical properties of concrete. Sand making machine is to control the fineness modulus and other key quality indicators.
The JOYAL VSI Sand Making Machine is improved on the basis of Germany high technology, which is highly-efficient and superior in performance.