The impact crusher machine is a machine which works with shock principle, the materials in the crushing chamber suffer a high speed crush from the high-speed rotating hammer, the crushed materials rush over to the impact plate and coming back again, this process will repeat until the products satisfied the requirements, i. e. the fractured particle can discharged as its size is smaller than the gap between the counterattack plate and the hammer. The energy request for various materials is inconsistently.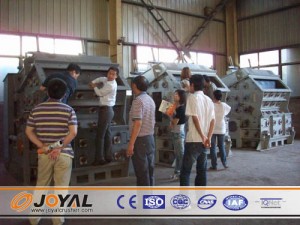 The performance characteristics of impact crusher:
The unique structure, keyless connection, high-chromium plate hammer, particular impact liner; hard rock crusher, energy-efficient; the product shape is cube, adjustable discharging grain size, streamlined broken process.
Impact crusher plant working principle:
While operating, rotor spinning at high speed driven by a electric motor, the materials are crushed with hammers on the rotor when entered and were re-broken on a counterattack to the liner, and finally discharged from the outlet.The Jaw Crusher was commonly used in the production of beneficiation plants and gravel plants. This machine, compared with the other crushers, has the advantages of low cost and high efficiency.