The impact crusher is widely used in metallurgy, mining, cement, chemical, refractory and ceramic industries, and highway construction, water conservancy projects, building rubble, sand processing and other fields,It is suitable for soft, medium hard ores in pieces, minor.
For the past few years, waste disposal equipment has sprung up, such as mobile crushing station, mobile jaw crusher station, mobile impact crusher plant, mobile cone crusher station and special crushing equipment, which make resource utilization of construction waste become a reality, thus making contributions to construction waste disposal undertakings. As a typical waste disposal equipment, impact crusher can help city digest construction waste.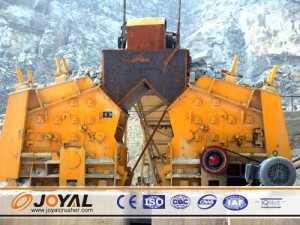 Shanghai Joyal Machinery Co., Ltd  have the exquisite techniques and advanced technology of impact crusher, lime rotary kiln, cone crusher machine and other equipment, and we will do our best to get your satisfaction. We firmly believe that we can get sincere repay with our sincere dedication.
Joyal impact crusher is a kind of crushing machine that uses the impact force to crush the ore. The working principle of impact crusher: With the driver of motor, the rotor will do high-speed rotation. When the material enters into the effect area of plate hammer, it will crushed by the plate hammer on the rotor. Then it will be thrown to the counterattack device for further crush. After that it will spring to the plate hammer for re-crushing. This process is repeated, the material will be repeated crush in the crushing cavity. Until the material is crushed to the desired particle size, it will discharge from the discharging port.