The ore crusher is a processing equipment used for the crushing processing of ore and other materials. There are many types of ore crusher for ore crushing processing, common jaw crusher, impact crusher, hammer crusher and cone crusher. Machines, hydraulic crushers, roller crushers and other crushing equipment. ShanghaiJoyal Mining Machinery Co., Ltd. is here to talk about mobile crushing stations that are often used for sand production and construction waste disposal.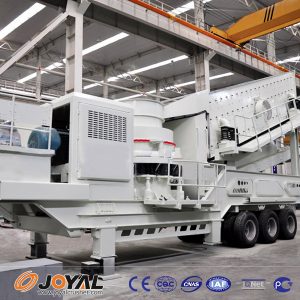 What is the difference between mobile crushing plant and other crushing equipment? Why can we get everyone's favorite? The mobile crushing station can directly select the site, directly open to the site, without transportation, directly to the finished particle size, especially suitable for some broken small Sites, such as urban construction waste disposal.
Mobile crushing station has many advantages. The successful launch of mobile crushing station not only eliminates cumbersome steel frame structure during crushing, the construction of foundation, saves a lot of engineering construction time, but also improves a lot of frame crusher. User investment income can be said to be a very useful crushing equipment.
According to the type of equipment, the mobile crushing station is divided into two types: a tire mobile crushing station and a crawler type mobile crushing station. The tire moving crushing station is mainly used for the crushing of small and medium-sized ore quarry and some urban infrastructure, roads or construction sites. Work; and crawler crushing stations are generally used in a more harsh environment, and even need to climb operations in a large crushing production line.