Ore crusher is a commonly used equipment for ore crushing processing. The ore crushers commonly used in gravel production lines include jaw crushers, impact crushers, and hammer crushers and cone crushers. Shanghai Joyal Mining Machinery is a professional manufacturer of ore processing machinery and equipment.  Joyal here reminds users to pay attention to the accessories of the ore crusher is also very important, and is the focus of the maintenance of the ore crusher.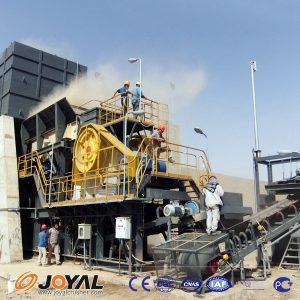 Hammer crusher hammer high-speed transformation of the material and the hammer and the screen, tooth plate between the violent impact, known as the material smash. In the process of severe impact, the hammer will gradually wear under the impact of the material, and the impact effect and the crushing effect will also be greatly reduced, which will cause the work efficiency to decline.
Ore crusher bearing is an important part of the work process from the fixed and reduce the friction coefficient, because the machine at high speed, because the friction will not only increase the metal crusher energy consumption and easy to damage the bearing, Shanghai Joyal Mining Machinery recommends everyone With pre-lubricated bearings, it is its own lubricant in the bearing.