Jaw crusher is a common equipment for ore crushing. Jaw crusher in gravel production line is often used as coarse crushing equipment for ore. Jaw crusher can process a lot of crushing materials, common limestone, dolomite, granite, basalt, etc. Ore can be crush-processed using a jaw crusher. Shanghai Joyal Mining Machinery Co., Ltd. here mainly talks with everyone about the jaw crusher's crushing chamber.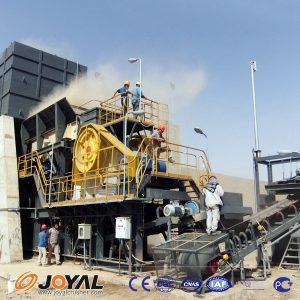 Jaw crusher crushing chamber is jaw crusher for ore crushing processing of the main parts, jaw crusher crushing chamber is mainly composed of dynamic jaw plate, fixed jaw plate and two side wall lining. The shape of the crushing cavity is determined by factors such as the feeding port size, phasing angle, the arrangement of the movable jaw plate and the fixed jaw plate and the two side wall lining plates, the shape of the longitudinal and transverse sections of the lining plate and the like.
The cavity type of the jaw crushing chamber directly affects the main production effects of the jaw crusher, such as productivity, energy consumption, product particle size composition, grain type, and liner service life. With the continuous development of the crusher, especially in recent years, "more crushing and less grinding" has increased crusher crushing ratio and improved product quality. Whether it is to design a new crusher or to improve the existing old crusher, Designing the best crushing chamber is a very useful job.
Jaw crusher crushing cavity has also been a great change, from the crushing cavity type curve Joyal remind everyone to pay attention to, along the height of the crushing chamber cross-sectional productivity, from the feeding port to the material discharge port is getting more and more down, and row There is a small productivity at the material outlet, so this area is prone to blockage. We must clean it up regularly to avoid affecting production.