Construction waste crushing plant
After crushing of construction waste, concrete particles, brick, stone debris and sand particles were used depending on the particle size. The construction waste can be crushed and screened into different specifications according to the customer's request.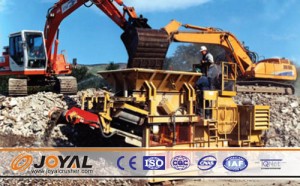 Particles can be used for unlimited concrete roadbed, agricultural land and forest roads, pedestrian and bicycle paths and concrete, etc.; brick, stone chips or sand particles can be used for sports fields, gardens and scenic spots of stone, road base and so on.
Usage of construction waste crushing plant for handling the construction waste, on the one hand, not only solve a lot of concrete waste disposal difficulties and the consequent negative to impact on the environment, but also save a lot of clean-up costs; on the second hand, reduce to exploit the natural sand and gravel mining.
We offer our customers the configuration of construction waste recycling plant which is screening, crushing, iron-removing, dedusting as one with harmless, reduction and treatment resources, etc. which can meet the capacity of 40 to 300 tons per hour of construction waste.
Construction waste crushing plant is divided into fixed and mobile type, and fixed crushing plant requires a specific site, and construction waste needs to be transported to the crushing plant for crushing. But the mobile crushing plant is integrated into all the garbage crushing and screening equipment via one to two wheeled or crawler type, it can be flexible traction to the site where it is needed crushing operations.