Jaw crusher is an important mechanical equipment for the crushing of ore. The jaw crusher can crush a lot of materials. Whether it is limestone or brittle material or granite, such high hardness ore can be crushed by jaw crusher. Processing. The jaw crusher is a mechanical device in the sandstone production line.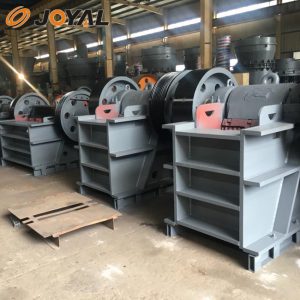 As a professional manufacturer of ore processing machinery and equipment, Shanghai Joyal Mining Machinery Co., Ltd. hereby talks about the preparations that the jaw crusher needs to do before it officially breaks the ore. Before the jaw crusher works, the user needs to check whether the tightening bolts of the jaw crusher are loose, whether the transmission parts are obstructed, whether the pulleys are intact, whether the parts are seriously worn, whether there are any debris inside the machine, and ensuring no load to start.
Also, it is necessary to pay attention to check the auxiliary motor, feeder, electrical equipment of the jaw crusher, whether the electrical connection is intact, check whether there are any debris inside the feeder, and avoid the existence of unbreakable substances to prevent confrontation. Damage caused by processing equipment such as crushers.
The user needs to check the lubrication of the lubrication part of the jaw crusher. The main function of the lubrication is to reduce the friction, protect the parts, improve the operation efficiency, and check whether the lubrication parts are contaminated. Check the oil of the oil tank before starting. Quantity, replenish lubricant if necessary.