In recent years, with the rapid development of China's economy, a large number of mineral resources have been developed and utilized, which has promoted the development of the mining machinery industry. As a major equipment in the mining machinery industry, the crusher equipment has been widely used. The main working part of the jaw crusher is composed of a fixed jaw and a movable jaw. The movable jaws periodically reciprocate the fixed jaws, and the material is crushed between the two jaws. Suitable for coarse and medium hard materials and medium hard materials. It is divided into two types: rough and fine. There are various series of jaw crushers produced by Shanghai Joyal, which can be selected according to the customer's site conditions.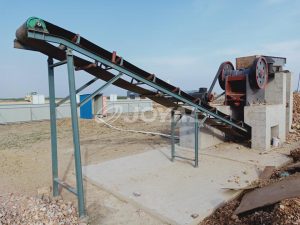 Jaw crushers are widely used in the mining industry. It can crush various metal and non-metal ore such as granite, marble, basalt, limestone, quartz stone, river pebble, iron ore, copper ore, etc. It has large crushing ratio, uniform product size, reliable operation, low energy consumption and greatly reduced Equipment operating costs have an insurmountable advantage in the process of crushing materials. It fully guarantees the broken demand of customers in various industries such as mining, metallurgy, building materials, water conservancy and chemical industry.
With the rapid development of the international economy, the update speed of crusher equipment is extremely fast. In order to better adapt to the development of the mining industry, the jaw crusher needs to improve the equipment technology level. Shanghai Joyal Jaw Crusher introduces advanced technology at home and abroad to design and develop a high-strength jaw crusher.
The jaw crusher has a promising future in the mining industry. To be stable in the market, you need to have strong technology, and it is also a necessary condition to strengthen your own market competitive advantage. The jaw crusher has also been moving towards a green, low-carbon development direction from beginning to end. Enterprises should focus on developing new types of equipment. Shanghai Joyal jaw crusher manufacturers have increased their technical investment in the new situation.
If you want to know more about Shanghai Joyal jaw crusher, please leave a message on our website.