With the rapid development of the times, people on the gravel equipment technology and performance have become increasingly demanding, want to improve the quality of aggregate, we must first improve the artificial sand making technology. Shanghai Joyal seize on this point in the technology and equipment to further increase R & D investment, through unremitting efforts and innovation, the Shanghai Joyal final artificial sand making advanced technology firmly in the hands, creating the latest sand mmachine VSI Sand Making Machine .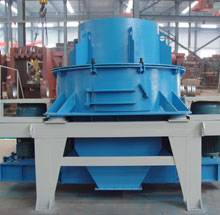 The use of national construction sand and gravel in the national highway, water conservancy, and other related items, we are the third generation of artificial sand making of a very high standard: more energy efficient and more environmentally friendly. VSI Sand Making Machine uses artificial deep cavity-type rotor, optimal design, materials increased by about 30 percent by weight, preferably inside the feed inlet and smooth curved design, by reducing the flow resistance of the material, significantly improving material capacity, than traditional sand machine save 50% of energy, in addition to, artificial sand making low noise, no pollution, the air circulation system can greatly reduce the amount of outside ventilation to reduce dust, it is environmentally friendly equipment. Therefore, artificial sand making machine VSI is an energy-saving, environmental protection, new grinding equipment.
Artificial sand making machine VSI combines new design and advanced selective crushing principle, to provide sufficient energy to direct raw materials, raw material can be crushed by the reduced energy consumption, the artificial sand making machine VSI finished along the cleavage plane burst powder a natural texture, finished good shape, more in line with the requirements of the construction site of artificial sand, suitable for highway and railway sites hydropower project production.
VSI Sand Making Machine finished with a uniform particle size shape, high compressive strength, energy saving than traditional sand advantage, help improve the quality of construction.