Double Roll Crusher Also known as the roll crusher, the roll shape is thick and thin roll, tooth roll suitable for brittle and soft material of the rough, medium broken. Double-roll crusher is suitable for crushing materials below the brittle medium hardness such as sinter, coke, slag, shale, limestone, etc. The double roll crusher is a very important ore processing equipment in the industrial, metallurgical and construction industries.Shanghai Joyal mining machinery to remind customers that the machine is double roll crusher test considerations.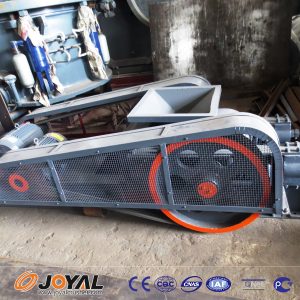 We all know that the ore crusher need to go through the test machine after the new purchase to see if the ore crusher can be used for ore operations, as the newly purchased two-roll crusher as well. Joyal here and tell you about the test requirements of roller crusher. The structure of the double-roll crusher is simple, reliable performance, less broken powder, is an important processing equipment.
Roller crusher in the test machine, the user needs to check the relative position between the two-roll crusher components, should meet the requirements of the drawings; roller crusher in the air after the operation 4h; double roll crusher bearing temperature Not exceed 30 ℃, the maximum temperature shall not exceed 70 ℃.
Roller crusher in operation V-belt wheels, gears, rollers and other rotating parts, should be smooth and vibration-free, tooth surface roller can not rub with the body, there should be no abnormal sound; and empty roll crusher load After passing the test, with a load test run, the test time according to system requirements.