Installation Operation and Maintenance of Jaw Crusher
1. The tension part
It is used for guaranteeing the combination of whole configuration closely and balancing the mass force in working time.
The assembling process:
The end of tension rod connects to the earring on the low part of movable jaw plate, another end is on the low part of rear frame through washers. The spring is clamped by the washers and nuts of two sides. It needs some pretightening force when crusher machine works to avoid the draw down. But the force can't be so big that the spring fracture.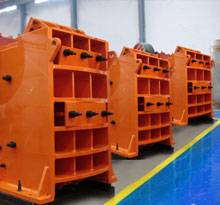 2. The rail
The rail is fastened on the basis of reinforced concrete through the foundation bolts.
Motor is installed on the rail, the motor base imbeds in the rail, adjust the distance from crusher according to the length of V belt. When the distance is confirmed, use the adjusting rod to fasten the motor base.
3. Safety device.
Safety devices are made and installed on working site with relative mark.