Ore crusher is used for the broken ore, jaw crusher can be said to be the representative of the ore crusher, is the key to broken ore, jaw crusher works is the motor drive belt and pulley, through the eccentric shaft Jaw up and down movement, when the moving jaw rises when the angle between the brackets and the moving jaw larger, so as to push the jaw plate to the fixed jaw plate close, while the material is crushed or split, to break the purpose. Jaw crusher is a relatively large consumption of machinery and equipment, so the Shanghai Joyal mining machinery to remind the majority of users should pay attention to jaw crusher in the broken ore at the same time the maintenance of the machine is also very important.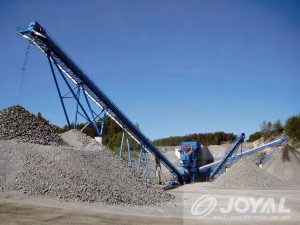 The bearing is the key part of the jaw crusher, and the wear is also relatively large. If the wear of the shaft is small, just to repair its geometry, it can be turned on the lathe so that the journal reaches the correct geometry, and then Corresponding to reduce the bearing diameter. But after several such treatment, if the journal size than the original 5% reduction, it is not allowed to turn, and should replace the new axis.
Jaw crusher is working under the impact load, the bearing on the Babbitt lining, the working period of about two years or so, if the user needs to re-cast for a long time. If the eccentric shaft and the bearing, mandrel and bearing wear, the top gap is greater than 1.5 times the original assembly gap, the need to adjust the pad or replace; oil groove wear 1.5 mm, you should re-open the groove and adjust. Jaw crusher link head cover and eccentric shaft between the gap, wear to more than 1.5 times the assembly gap, also need to adjust the pad or replace the new.