Nowadays, more and more jaw crusher are needed in competitive mining market and construction industry.Why does jaw crusher so popular in domestic industries ? Joyal stone crusher engineers will summary stone jaw crusher technical characteristics in stone crushing plant.
1. The jaw crusher has simple structure, convenient to operation and maintenance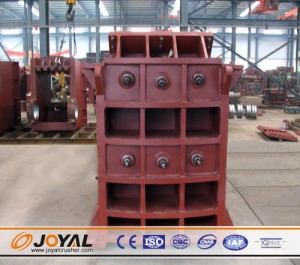 2. The jaw crusher features of high reduction ratio and uniform product size
3. The jaw crusher stable performance and competitive price mobile hollow concrete block making machine,cheap production cost
4. The jaw crusher adopts ecological technology ,which makes jaw crusher low noise and little dust
5. Jaw crusher technicians are also proficient and experienced stone crusher engineers,guarantee life long quality for jaw crusher
Joyal stone crusher experts also conclude the operation manual and maintenance tips, which is based on practical crushing process and client's feedback in stone crushing plant and aggregate crushing plant. The most used stone crushers also refers cone crusher machine, roll crusher, impact crusher, diesel crusher and hammer crusher etc.