The sand production line is a production line for the processing of ore. The sand production line is the main source of the production of sand and gravel aggregates used in the construction industry. The sand production line is composed of many ore processing machinery and equipment. Shanghai Joyal Mining Machinery, as a manufacturer of ore processing machinery and equipment, talks about the composition of the sand production line here. Sand production line, which is mainly composed of jaw crusher system, impact crusher vibrating screen, sand washing machine and belt conveyor combination, according to different requirements of the process, using appropriate equipment configuration.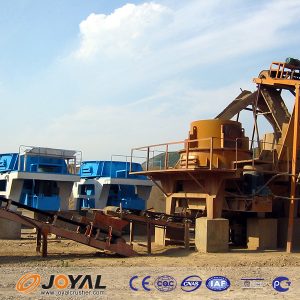 Shanghai Joyal Mining Machinery reminds everyone that the equipment for the sand production line should be installed on the concrete foundation and must be fixed to avoid problems in use. Generally, bolts are selected.
Sanding production line installation is not easy, you need to pay attention to a lot of details, you should pay attention to the position of the host during installation, the orientation of the host should be horizontal and vertical.
After the installation is completed, it is not equal to the installation. We need to do some inspection work, for example, whether the bolts are tightened, and whether the main engine door is fixed tightly. If these things are not done well, it must be adjusted in time to avoid use. There are big problems that affect normal use and eliminate security risks.
The final step after all inspections is to try to run. This is a very important part, mainly to be able to test whether the machine is running smoothly during operation, so be sure to pay attention to any abnormal information during the test time.