Jaw crusher is the crushing processing machinery and equipment in the gravel production line. The jaw crusher can crush the relatively large ore and can crush the ore with relatively high hardness. It is a very widely used ore processing equipment.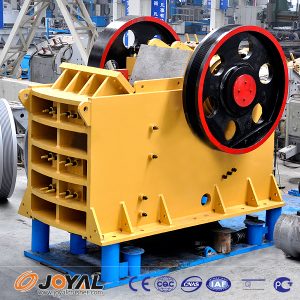 Jaw crusher in the process of crushing ore will also appear wear parts of the machine.Today,  Shanghai Joyal mining machinery and we talk about the wear of the thrust plate in the jaw crusher, how to reduce the jaw crusher thrust plate Wear and strengthen the jaw crusher thrust plate maintenance.
Jaw crusher thrust plate is mostly cast iron material, the thrust plate seat is cast steel and variant cast iron pieces, thrust plate plays the role of transmission of movement and force, but also played a safety protection and regulation of the role of ore size .
Jaw crusher thrust plate installed in the lower part of the body, it is not good for maintenance, so the plate head and plate seat are the most wear parts, wear, we can take the welding after processing, spraying, brush plating and other methods of repair.