Jaw crusher is a gravel production line dedicated to the relatively high hardness of the ore crushing processing of an ore processing machinery and equipment, jaw crusher in the production of sand and gravel is mainly used for rough crushing operations, , In the process of breaking the ore will cause great wear and tear on the machine, especially in the jaw crusher jaw plate wear. The jaws are the main parts of the jaw crusher used for the breakage of the ore and are parts that are easily worn in the jaw crusher. Shanghai  joyal mining machinery and we talk about how to check  jaw plate.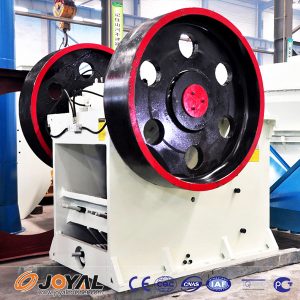 Jaw crusher jaw plate is made of high manganese steel casting, in order to increase the crushing capacity of raw materials, jaw plate surface cast into the tooth. Jaw crusher work is the most vulnerable to wear the lower part of the lower part of the jaw plate can be replaced after the use of wear, such as jaw plate are both wear and tear, should replace the new jaw plate. Replacement of the old jaw plate can be surfacing carbide repair. Jaw plate tooth wear in the 5 mm below the direct welding of cemented carbide layer, wear more than 5 mm should be surfacing the common electrode layer.
In addition to the jaw crusher jaw plate need to pay attention to wear problems, the jaw crusher there are many other parts, the same need to pay attention. For example, the brackets of the jaw crusher, the toggle plate is made of gray cast iron, mainly under pressure, so the wear is slow, when the elbow plate end wear serious, can be used to restore the size of cast iron electrode stack. The elbow plate is made of steel plate stamping, is not easy to wear, manufacturing is also easier, wear can be replaced when the new serious, do not have to repair.