Spring cone crusher is a kind of cone crusher, in the gravel production line, this ore crusher is often used to carry out the ore in the crushing operations, in the entire ore crushing processing production occupies a very important position, Shanghai Joyal Mine machinery as a professional manufacturer of ore processing machinery and equipment, where we talk about the spring cone crusher of the key parts of what, with everyone to further understand the spring cone crusher this commonly used ore crushing machinery and equipment.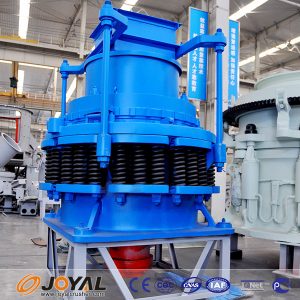 Cone crusher in the process of breaking the ore may produce some dust, so the spring cone crusher will certainly have dust-proof device, spring cone crusher dust from the sink, drain, retaining ring, ring and ring, etc. composition. Water pump into the sink through the water pipe, and then overflow to the drainage tank discharged through the drain. Due to the ring blocking effect, so that dust can not enter the machine and fall into the sink by the circulating water away, so as to protect the purpose of the transmission parts of the machine.
Spring cone crusher It is conceivable that the spring cone crusher there are more important spring this important part of the spring insurance cone crusher is used in the rack around the spring for the insurance device. When the crusher is overloaded, the support ring and the adjustment ring supported on the spring are forced to lift upwards to compress the spring, so that the discharge port size increases and the non-crushed material can be discharged, and then, under the action of the spring force, And adjust the ring automatically reset, you can re-broken. In the following,joyal continue to add to everyone under the spring cone crusher in the important parts.