pe600 × 900 jaw crusher, nicknamed 69 jaw crusher, widely used in 80-120 tons per hour stone production line, is a common crushing operation in mines, and is widely used, a cost-effective crushing equipment。 Machine equipment.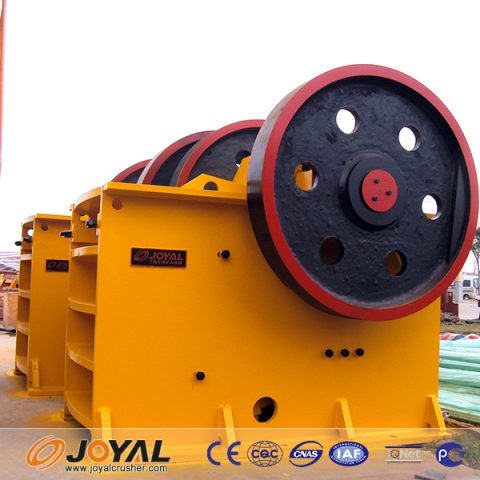 In a complete stone production line, the 69 jaw crusher is generally directly linked to the feeder. The material to be crushed enters the jaw crusher through the feeder for rough crushing. After the material is roughly broken, it is conveyed by the belt conveyor to the impact crusher or cone crusher for secondary crushing. We choose the corresponding model according to the demand for the size of the stone particles, and sometimes it is crushed three times to produce a satisfactory Stone.
The pe600 × 900 jaw crusher can process 180 tons of stones per hour, and has a simple structure, convenient operation and stable operation. It has always been a crushing device that users prefer to use for processing materials. What are the advantages of pe600 × 900 jaw crusher? The editor here analyzes as follows:
Crushing various stones and rocks: the pe600 × 900 jaw crusher is suitable for coarse crushing of various materials such as marble, basalt, granite, quartz stone, ore, and refractory materials
Convenient outlet adjustment: This stone crusher adopts the design method of gasket-type adjustment outlet. The operation is simple. The user only needs to increase or decrease the number of gaskets to adjust the size of the outlet.
Strong crushing capacity and high production efficiency: the pe600 × 900 jaw crusher is designed with a deep "V" -shaped crushing cavity, which greatly reduces the pushing and clogging of materials, thus increasing the amount of feed and crushing more The material improves the crushing capacity and production efficiency.
Energy saving and low noise: The energy saving of this stone crusher is 15% -30%, the system energy saving is more than double, and the noise generated is small, the environment and the body are less harmful, and green production is realized.
Easy maintenance, low operating cost; stable performance and long service life. It is widely used in sand quarries, coal mines, highways, railways and other industries.