With the development of China's construction industry and the construction of urbanization, the construction of new urbanization has also led to the emergence of a large number of construction waste in the city. Mobile construction waste crusher is an important tool to deal with urban construction waste and give everyone a good living environment. Shanghai Joyal Mining Machinery focuses here on the structure of mobile crusher.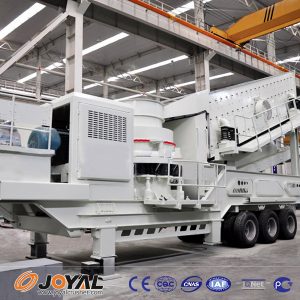 The mobile crusher is a core component, and crushing construction waste is its main task. The medium hardness material is the main feature of construction waste, with low viscosity and no excessively high water content. The mobile cruhser breaks these construction wastes. Only after the first crushing can further processing be carried out.
In order to enhance the self-property of the recycled aggregate, the granular material should be broken up to effectively reduce the content of the flake material and ensure that the particles can be evenly distributed. Therefore,joyal reminded the users that the operator of the mobile crusher must control the crusher's performance, efficiency and material size in accordance with the corresponding standards and scope.
In order to produce high-quality recycled aggregates, if it is difficult to complete the crushing as required, secondary crushing is required. This requires the addition of a screening system to screen the larger-sized concrete blocks and then to the crusher. In the middle of transportation, the crushing process is performed again, so the screening system is also an indispensable part of the mobile construction waste crushing station.