The ore crusher is a mechanical device used for ore crushing processing. There are many models of ore crushers. The common jaw crusher, impact crusher, hammer crusher and cone crusher are commonly used for ore crushing. Equipment, in the process of crushing ore in the ore crusher will produce dust problems. Shanghai Joyal mining machinery here and everyone to talk about how to solve the dust generated by the ore crusher.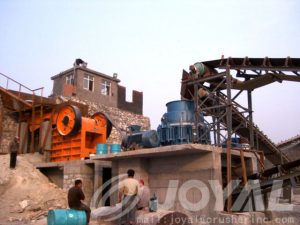 The ore crusher equipment can be dust-collected by means of a dust-tight method. Due to the simple process and high degree of mechanization, remote control can be used to further reduce and eliminate the chance of dust exposure by operators. This is a very effective solution to the problem of dust generation in ore crushers.
The dust in vehicles during open-air mine transportation is the main dust source of open-pit mines. Joyal recommends that everyone spray water on the rock before loading it, set up spray devices at the unloading site, strengthen road surface maintenance, reduce the concentration of roads during vehicle transportation, use asphalt or concrete pavement for major transport routes, and use mechanized sprinklers to drive the road surface. Frequently sprinkle water, or add wetting agent to water to improve dust protection.
For ore crusher operators, pay attention to personal protection. After the production process in the mine adopts the measures of ventilation and dust prevention, the dust concentration may fall below the specified standard, but there are still a small amount of fine dust suspended in the air, and in particular there are some sites that cannot meet the required standards. Therefore, strengthening personal protection is an important aspect of comprehensive dust prevention measures.