Ore crusher is a mechanical equipment used for ore crushing processing. Some common ore crushers in gravel production lines include jaw crusher, impact crusher, cone crusher and hammer crusher. Shanghai Joyal Mining Machinery here to remind users to pay attention to the ore crusher in the broken ore process may occur in some unexpected circumstances.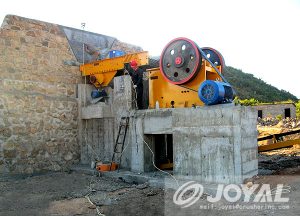 In the process of crushing the ore by the ore crusher, the cracking of the inner shell may occur, which may cause the rough material of the inner shell to leak into the finished product of the outer shell and make the finished product finer. In this case, the method of entering the control board or increasing the number of auxiliary blades may also be invalid. At this time, Joyal reminded the majority of users should stop the inspection. The inner shell is most likely to have worn holes at the bottom of the lower cone, and if there is a hole, it can be temporarily repaired. It should be thoroughly treated when it is overhauled.
When the auxiliary blades of the ore crusher come off, the product fineness suddenly becomes thicker and fluctuates. At this time, the body of the ore crusher has a lighter swing and should be checked and dealt with in a timely manner. In the operation of the ore crusher, the control plate may move inward or outward due to the vibration of the body, resulting in a change in product fineness. At this time, it is also necessary to check whether the outer dimensions of the control board are uniform in order to correct it in time.
When the feeding pipe of the ore crusher is clogged, the coarse material accumulated in the inner shell can be spilled from the return airfoil into the shell product, so that the product fineness suddenly becomes thicker. At this moment, the load of the hoisting machine will drop quickly. When this happens in the ore crusher, Joyal reminds you to stop the inspection immediately.