Jaw crusher is the first common crushing equipment in ore mining. It is mainly used to handle various hard ores, and has many kinds of processing materials. It can be used in mines, building materials, highways, railways, water conservancy, chemical industry and other industries. The crushing of large blocks of materials, along with the development of China's construction industry and the development of road construction projects, etc., Jaw crushers have become very important ore processing machinery and equipment in sand production lines. Shanghai Joyal Mining Machinery Co., Ltd. and everyone said Said jaw crusher.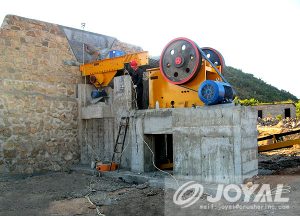 With the continuous upgrading of technology, users have increased their technical requirements for jaw crushers. There are more and more types of jaw crushers. Shanghai Joyal Mining Machinery Co., Ltd. is a professional manufacturer of ore processing machinery and equipment. Talk to everyone about the commonly used models of jaw crusher
Jaw Crusher CJ series European Jaw Crusher is a more advanced crushing equipment. This commonly used jaw crusher mechanical equipment has large crushing ratio, high efficiency, high throughput, low operating cost, and economy. With outstanding advantages such as practicality, the feeding granularity of the equipment is not more than 1000mm, and the production capacity is 65-1250t/h, which is a more suitable choice for large and medium-sized stone production lines.
The HD German version jaw crusher has a superior advantage in handling hard materials. Its model is complete, which can meet the production needs of customers. There is also a PE jaw crusher. The crusher equipment should pay attention to the feed particle size of not more than 1500mm during use, and the production capacity is in the range of 1-2200t/h. There are many types of this equipment, and the jaw crusher of this series is very popular. Welcomed by the majority of users, its size and size are more, and it can satisfy all kinds of large, medium and small stone processing and production.