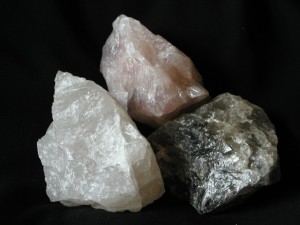 Quartzite is also called quartz sandstone, silica sandstone etc. Quartzite is the major raw materials to produce quartz or silica sand. Joyal is a major quartzite crusher manufacturer and supplier in China.
Our major crushing equipment used in quartzite crushing plant are Primary jaw crusher, Secondary jaw crusher, Secondary impact crusher, fineness cone crusher, fineness VSI crusher etc.
The crushing capacity of quartzite crushing plant from 200 TPH to 500 TPH manufactured by Joyal is popular in the world.
As quartzite rock is one of the hardest rocks, crushing process is necessary in the plant in order to get quartz sand, silica sand gravel.
The crushing process goes on as follows:
Firstly, the raw quartzite blasted into proper size will be fed into primary jaw crusher by vibrating feeder, the it will be crushed and transferred to Secondary crusher (jaw crusher, Impact crusher) via conveyor belt. Then the quartz sand will be sieved by vibrating screen into different grades, the sand meet the demands will be transported to a stockpile, the larger ones will be transferred into VSI crusher for further crushing until the grain size is suitable.
After the crushing process, ball mill and other grinding mill may be needed if the customer want to make powder from the silica sand.
The features of Joyal quartzite rocks crushing plant:
1) High crushing efficiency, low consumption in metal;
2) The final grain size can meet the float glass production process requirements;
3) Versatile application for sandstone, quartzite, silica and feldspar etc.

Quartzite rock is used to produce quartz sand; quartz sand is often called silica sand, industrial sand and gravel or quartz sand. It is one of the most common nonmetallic minerals with the most diversified uses.
Silica sand is used chiefly to produce container glass, flat glass, foundry molding and cores, abrasive and blasting sand and hydraulic fracturing sand, certain fiberglass manufacturing, golf bunkers and topdressing, and landscaping and so on.
Quartzite ore is widely distributed in Surghar Range, Thano Bulla Khan in Pakistan.

Silica sand is used throughout the world, and in so many different ways it is hard to imagine a world without it. From water filtration, to industrial casting, to glass manufacture, to producing concrete, to sand blasting, to adding texture to slick roads, silica sand impacts every aspect of daily life. One of the major uses of silica sand in the modern world is as an ingredient in industrial concrete. Silica sand produces the bulk of a great deal of concrete, although some concrete bypasses its use for safety and strength reasons.
The crushed quartz sand or silica sand may be bigger than the required final size. So it must be grinded after crushed. The common quartz grinding machine or silica grinding machine is ball mill. The ball mill is a horizontal rotating device transmitted by the outer gear. The quarts are transferred to the grinding chamber through the quill shaft uniformly. There are ladder liner and ripple liner and different specifications of steel balls in the chamber.
The centrifugal force caused by rotation of barrel brings the steel balls to a certain height and impact and grind the quartz. The grinded quartz are discharged through the discharging board thus the grinding process is finished. There are also other grinding machines applicable to grinding silica sand and quartz sand, such as coarse powder mill. Joyal coarse powder mill has been widely used in quarts sand, silica sand, foundry sand, fine sand and other sand abrasive industry. The grinding plant can be designed by the customers' requirement.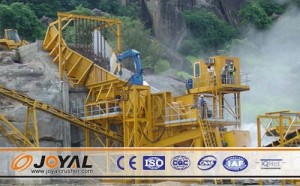 The most silica sand is made up of broken down or crushed or grinded quartz crystals or silica. The common quartz crushing plant or silica crushing plant consist of Jaw crusher, Impact crusher, vibrating feeder, vibrating screen and belt conveyor. The big size quartz block are transferred to primary crusher – Jaw crusher through vibrating feeder from hopper for first crushing, then the crushed materials are transferred to Impact crusher through belt conveyor for secondary crushing. The materials crushed which is silica sand, will be transferred to the vibrating screen, and separated to different sizes. The silica sand with suitable size will be transferred to the final product pile and silica sand with unsuitable size will be transferred to the Impact crusher for re-crushing.