The crusher consists of mainframe, transmission device, hollow eccentric shaft, crushing cone, adjustment device, adjustment cover, springs and hydraulic station for adjusting
the discharge opening.
During the operation, the motor drive the eccentric cover to rotate through the horizontal axle and bevel gears. The center axle of cone crusher plant swings with the force of the
eccentric shaft cover so that the crushing surface is close to the mortar from time to time. In this way, the materials will be crushed through continuous pressing.
Operation regulations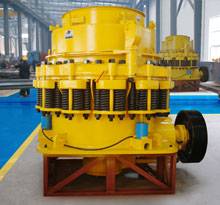 1. Start thin oil station before start the main unit, if the lubrication system is ok, start the main unit, then start the vibrating feeder if the machine running normal without
load. Stop feeding before stop crusher, ores in crushing chamber is exhausted totally, stop the main unit, and stop the thin oil station at last.
2. Before start the thin oil station, open relative oil valve and switch, adjust the pressure adjust device, keep the pressure between 0.04-0.1MPa, the oil temperature should be
in 30-40℃, if the temperature is too low, start the resistance heater first.
3. Please refer to the electricity control cabinet instruction for all electric switch function. And put them in proper position before start the main unit.