Feldspar grinding mill
In industry, what we need is feldspar powder. So, in stone quarry, the feldspar grinding plant is more common. In the feldspar grinding process, thereare several types of feldspar mills that can be used.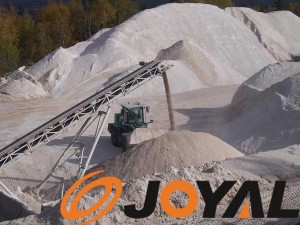 Ball mill is used to grind many kinds of mine and other materials, or to select the mine. It is widely used in building material, chemical industry, etc. There are two ways of grinding: the dry way and the wet way. Ball Mills have been used to grind glass, powder food products, creat custom varnishes,make ceramic glaze, powder various chemicals, and make Black Powder.
Raymond mill is mainly used to grind non-inflammable and non-explosive materials with Moh's hardness below 7 and moisture content below 6% such as barite, calcite, potash feldspar,talcum, marble, limestone, ceramic, glass, etc Raymond Mill can be used in mining, chemicalindustry, construction materials, metallurgy and so on. The final products can be adjusted freely from 100 mesh to 425 mesh.
Ultrafine mill is widely used in making fine powder or micro powder, a new kind of machine for producing fineness and ultra-powder. grinding mill is mainly used for grinding the material with middle and low hardness, below 6% moisture, and the material should be non-explosion and non-flammability, such as: calcite, chalk, limestone, dolomite, kaolin, bentonite, steatite, mica, magnetite, iolite, pyrophillite, vermiculite, meerschaum, attapulgite, diatomite, barite, gypsum, alunite, graphite, fluorite, phosphate ore, potassium ore pumice, etc. The size of the finished production can be adjusted between 325-2500 mesh.
Feldspar mining industry
In feldspar mining process, which feldspar mining equipment we usually use is feldspar crusher, feldspar grinding mill and vibratring screen, vibrating feeder, belt conveyor. In feldspar mining plant, crushing is the first step. In this crushing process, jaw crusher, impact crusher and cone crusher is the common crushing machine. Then feldspar particle enter into the grinding process. In this process, feldspar is grinded into powder, and then collects by cyclone collector.