The recycling reuse of construction waste can not only protect the environment, reduce its compact to environment, use scientific management and effective measure but also save lots of construction funds and resources. For example, used reinforcing steel bar, iron wire and electric wire can be remachined and made into various types of steel after separating, collecting, and melting down. Brick, stone, and concrete, etc can used instead of sand(used in masonry mortar, plastering mortar, and building concrete cushion and also making building blocks, paviour , and lattice brick) after crushing. Construction waste can be uses instead of natural aggregate in making concrete, construction bricks and road base materials after separating, collecting crushing and screening into different size of aggregate, which made it own the advantage of high-usage, low producing cost, wide usage, great environmental and economic benefits.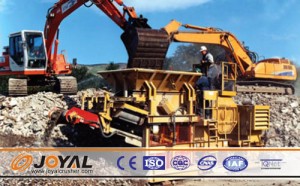 In order to better used in processing construction waste, Joyal based on many years of researching crushing and sand making devices, first produce mobile crushing plant, for the hope of conveniently and fast processing construction waste crushing using a serious of integrated machine. Separated construction waste first goes to specified de-ironing device then preliminary crushing, secondary crushing, even fine crushing devices, made into certain size of Recycled sand aggregate, finally used in many fields like roadbed stone, baking-free brick and filler for cement. According to different policy and environment, construction waste can be divided into two types:
1. centralized processing
Centralized processing is the process of collecting construction waste to certain field, separating, selecting and processing together. According to customers' market situation, Joyal recommend two types of centralized processing device: one is stationary set of crushing machine, the other is mobile crushing plant unit which can move conveniently.
Stationary crushing unit is consist of a whole set of sand producing line which includes crusher, impact crusher(or cone crusher), sand making machine, vibrating screen, belt conveyor etc. Using sand producing process to process the construction waste like concrete, used bricks, stone we can recycle resources. Joyal had many years' experience of researching high quality sand producing device, and we can work out best designing plan to satisfy customers' need to the largest extent.
Mobile crushing plant unit device, designed based on the main process of sand making, is a whole set of machine which joint crushing and screening devices together. It uses vehicle system or track mounted system to reach the function of integration movement and it can freely choose construction plant, promptly process the material, reduce the transporting and processing cost greatly, and increase productivity. Mobile crushing plant unit can satisfy customers' need better. Joyal designed more than 10 types of mobile crushing unit, which can satisfy customers' need to the largest extent.
2. distributed processing
To the situation when construction waste is not gathered, or be separated into several district, it is suitable to use the mobile crushing plant to save the cost of devices , which is the Joyal new type of mobile crushing unit device.

As the gradual improvement of the scientific research to mobile crushing plant, Joyal now has already realize free combination of different types of devices in a single unit. According to customer's need, we have standard, close circuit, stand alone, combined etc modes of mobile crushing plant. We can supply portable crushing plant and track mounted crushing plant which enable shifting from different places productively and promptly.